Finally a Kick-Butt, Sweat Pouring, Bag Slamming, Aggression Releasing, Power Punching Workout for the "Bored With the Spa Scene" Raging Kickboxer Deep Inside us all!
For Fun, Fitness, and Self-Defense the area's #1 Martial Arts School invites you to try The Ultimate Fat Burning Workout! Karate America's KickBoxing Class is an Exciting, and Explosive Fitness and conditioning workout that combines the kicks of karate with the punches of boxing!
Karate America's specially designed kickboxing class is taught by a Nationally Certified instructor and is guaranteed to get you in the shape you've always wanted while teaching you Valuable Self-Defense Skills!
From your shoulders to your curves, you'll become Leaner and Stronger, you'll Tighten and Tone your body, Increase Your Confidence, Reduce Your Stress level while having fun in a Clean, Safe Family Environment!
Our Instructors are the Self Defense Specialists!
Our Instructors are Martial Artists!
No Experience necessary!
No Belts or Uniforms Required
No Physical Contact!
Classes are for Adults and Teens Only!
And it is the most Fun way to get in shape ever!
---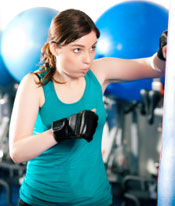 Fitness KickBoxing blends your own hidden personal powers with the tried and true techniques of personal self-defense, dance, and kickboxing all set to today's hottest music.
Try Fitness KickBoxing today. It's easy. There's no complicated choreography to make you feel out of step. It's a workout you'll look forward to each day.
Explore the benefits of the health club scene without all the hassle...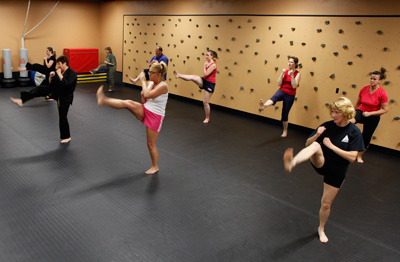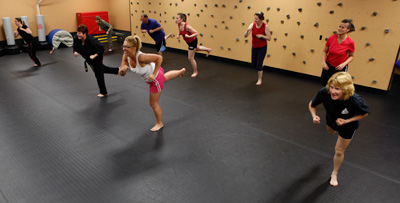 Fitness KickBoxing Benefits:
Toning: Did you ever notice how boxers and kickboxers have very toned bodies? That's the same look you'll get from Fitness Kickboxing. You'll get tight buns, toned legs, a flat stomach and a stronger upper body.
Stress Relief: Clients tell us this is one of the top reasons they can't get enough of Fitness Kickboxing. Because of the mental strength that martial arts develops, participants get so absorbed in Fitness Kickboxing class, thier problems seem a million miles away.
Flexibility: A major benefit of increased flexibility is better blood circulation and more relaxed overall lifestyle.
Self Confidence: We all know that when you look good, you feel good. Imagine adding "And I can take care of myself" to the equation.
Variety: To make sure our students never get bored with Fitness Kickboxing, we make sure our classes are never the same old routine.
To get the body you deserve... and desire... Call our office to set up your first class. In fact, we are so sure you will enjoy Fitness Kickboxing so much... we will give you your first class FREE! Come on!!! What do you have to loose… well, besides the pounds!
Call 920-733-3444 Today!